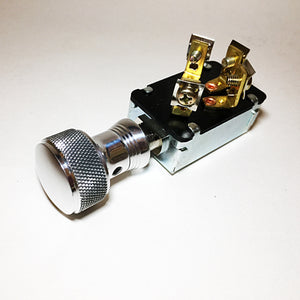 Keyless Ignition Switch with Polished 'Knurled' Aluminum Knob & Bezel
Universal "Keyless" Ignition Switch with polished aluminum 'Knurled' style Knob and Bezel. 
The switch pulls out for an 'accessory/ ignition on' position and then out again to crank the engine. Push the switch back in to kill the ignition and stop the engine. 
Many other switches available with a matching knob and bezel