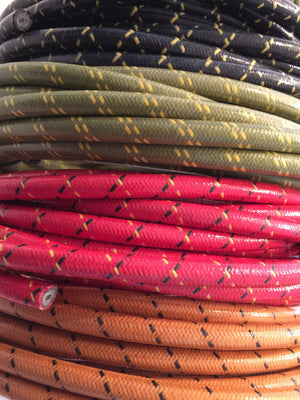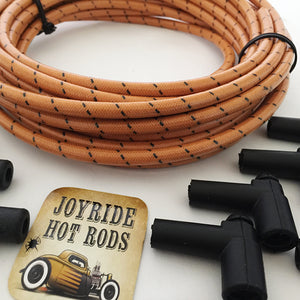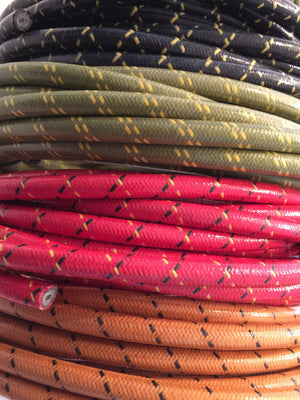 Vintage Cloth Covered Spark Plug Wire Kit For ELECTRONIC IGNITION SYSTEMS
Made in the USA, 7.8mm Lacquer Covered Cotton Braid over EPDM Insulation and Spiral Wound Suppression Core specifically for use with modern electronic ignition systems, including MSD 6A, 6AL Multi Spark Ignition Boxes and Pertronix Electronic Ignition Conversion Kits. 
Please Note: Many of the cheaper 7mm or 8mm wire out there on offer, most probably will not have the suppression core and this will cause problems with the micro chips used in modern electronic ignitions. 
Sold in a length of 25ft that is more than adequate for all popular V8 engines with a universal Terminal and Boot kit to allow you to route the wire as you please, cut to length and crimp the terminals yourself. (A correct crimper is recommended but is not included in this kit)
The Lacquer allows you to easily wipe of any dirty hand marks or oil stains.  
EPDM - Ethylene Propylene Diene Monomers is a high density rubber that is extremely versatile with an ability to withstand high temperatures (up to 215C). Because of its versatility it is used in Automotive, Industrial and several other industries. EPDM is ofter used for Seals, O-Rings and Grommets because of its resistant properties against weathering, acids and Alkali's. Tensile range of 500-2500 PSI. Flame retardant.
his Terminal and Boot Kit contains:
Eight 90° Spark Plug HEI style boots
Eight 90° Spark Plug HEI style terminals
One 90° Boot & Terminal for coil end of coil wire
Nine 90° Spark Boots for "socket style" cap
Eight 90° Terminals for "socket style" cap
Nine Straight Boots for "socket style" cap
Eight Straight Terminals for "socket style" cap